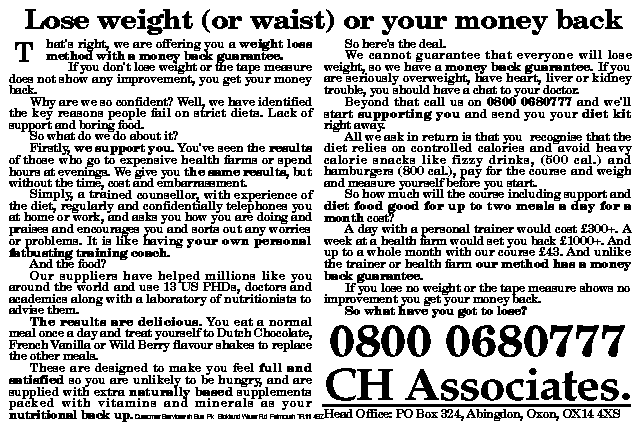 Lose weight (or waist) or your moneyback.
That's right, we are offering you a weight loss method with a money back guarantee.
If you don't lose weight or the tape measure does not show any improvement, you get your money back.
Why are we so confident? Well, we have identified the key reasons people fail on strict diets. Lack of support and boring food.
So what do we do about it?
Firstly, we support you. You've seen the results of those who go to expensive health farms or spend hours at evenings. We give you the same results, but without the time, cost and embarrassment.
Simply, a trained counsellor, with experience of the diet, regularly and confidentially telephones you at home or work, and asks you how you are doing and praises and encourages you and sorts out any worries or problems. It is like having your own personal fatbusting training coach.
And the food?
Our suppliers have helped millions like you around the world and use 19 US PHDs, doctors and academics along with a laboratory of nutritionists to advise them.
The results are delicious. You eat a normal meal once a day and treat yourself to Dutch Chocolate, French Vanilla or Wild Berry flavour shakes to replace the other meals.
These are designed to make you feel full and satisfied so you are unlikely to be hungry, and are supplied with extra naturally based supplements packed with vitamins and minerals as your nutritional back up.
So here's the deal.
We cannot guarantee that everyone will lose weight, so we have a money back guarantee. If you are seriously overweight, have heart, liver or kidney trouble, you should have a chat to your doctor.
Beyond that call us on 0800 0680777 and we'll start supporting you and send you your diet kit right away.
All we ask in return is that you recognise that the diet relies on controlled calories and avoid heavy calorie snacks like fizzy drinks, (500 cal.) and hamburgers (800 cal.), pay for the course and weigh and measure yourself before you start.
So how much will the course including support and diet food good for up to two meals a day for a month cost?
A day with a personal trainer would cost £300+. A week at a health farm would set you back £1000+. And up to a whole month with our course £43. And unlike the trainer or health farm our method has a money back guarantee.
If you lose no weight or the tape measure shows no improvement you get your money back.
So what have you got to lose?
0800 0680777
CH Associates.
Head Office: PO Box 324, Abingdon, Oxon, OX14 4XS
Customer Services: Unit5c Falmouth Bus. Pk. Bickland Water Rd. Falmouth TR11 4SZ