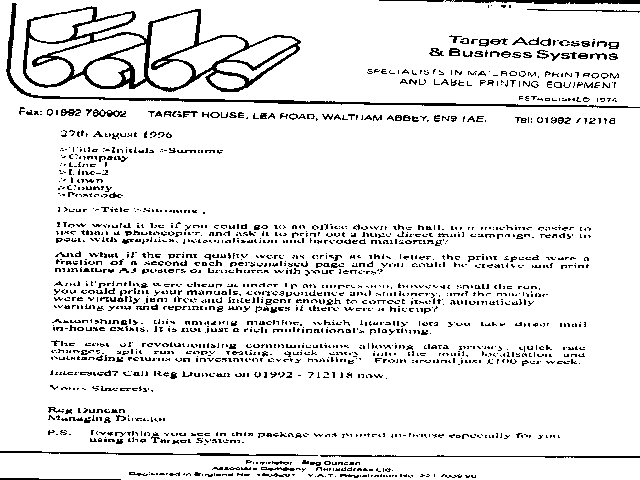 Dear prospect,
How would it be if you could go to an office down the hall, to a machine easier to use than a photocopier, and ask it to print out a huge direct mail campaign, ready to post, with graphics, personalisation and barcoded mailsorting?
And what if the print quality were as crisp as this letter, the print speed were a fraction of a second each personalised page and you could be creative and print miniature A3 posters or brochures with your letters?
And if printing were cheap at under 1p an impression, however small the run, you could print your manuals, correspondence and stationery, and the machine were virtually jam free and intelligent enough to correct itself, automatically warning you and reprinting any pages if there were a hiccup?
Astonishingly, this amazing machine, which lets you literally take direct mail in-house exists. It is not just a rich multinational's plaything.
The cost of revolutionising communications allowing data privacy, quick rate changes, split run copy testing, quick entry into the mail, localisation and outstanding returns on investment every mailing? £25495 or £100 a week.
Interested? Call Reg Duncan on 01992 712118.
Yours sincerely
Reg Duncan
Managing Director
PS: Everything you see in this package was printed in-house especially for you using the Target system.